Hey JETsetters!
A lot of people seem to always get stuck at the Criminal Record/Background Check portion of the application process.
I'll be focusing on the U.S. requirements for the check, but overall, they don't vary too much from other participating nations.
---
Disclaimer: I am by no means an expert on the JET Program or how its application process is done. All the advice and situations discussed in this series will be primarily based off my own experiences, as well as those of my friends and colleagues that are or were a part of the program.
---
As a US JET, you will be required to get an official copy of your Personal Identity History Report from the FBI before you can be assigned a contracting organization and your visa issued. The timeline of when the BG check is due varies on if you're your Early Departure or not.
If you are ED, you'll be required to have the BG check completed by your interview date or the very last day of interviews for your consulate, depending on the year and individual circumstances. For 2019 JETs, this is was at the latest February 8th for most consulates. You either must have it sent to your interview location/consulate and have it received by then, directly delivered to the location, or handed in at the time of your interview. You also will have to submit your completed Health Certificate (signed off by an M.D.) at this time as well.
Normal departures will have their BG checks due by the end of May of their departure year, along with their completed Health Certificate.
Follow the instructions from your consulate/embassy about when you should request the BG check. The LA consulate told us we could start the process when we got our interview offers and later confirmed that any BG checks no earlier than six months prior (basically, from the time you submitted your initial JET application) could be submitted, as long as you had sealed copies.
---
For the BG check, you can go through an approved channeler or directly through the FBI. If you go through a channeler, there is a list of recommended/approved agencies typically send out in your instruction email and on the FBI website.
The most important thing to keep in mind about the BG check is that you must have a sealed physical hardcopy of the results. You can either have it sent directly to your consulate/embassy or to you and ship it yourself. I know some consulates have said to not have it sent directly to them, while others, such as Los Angeles, prefers it. So, check in with your consulate about how to send it in to them.
---
What you will need:
Completed application through the channeler of your choice or through the FBI.
Either

A standard FD-258 fingerprint card

Please follow instructions provided by the FBI if printing yourself.

Completed LiveScan forms (typically 2-3 copies required)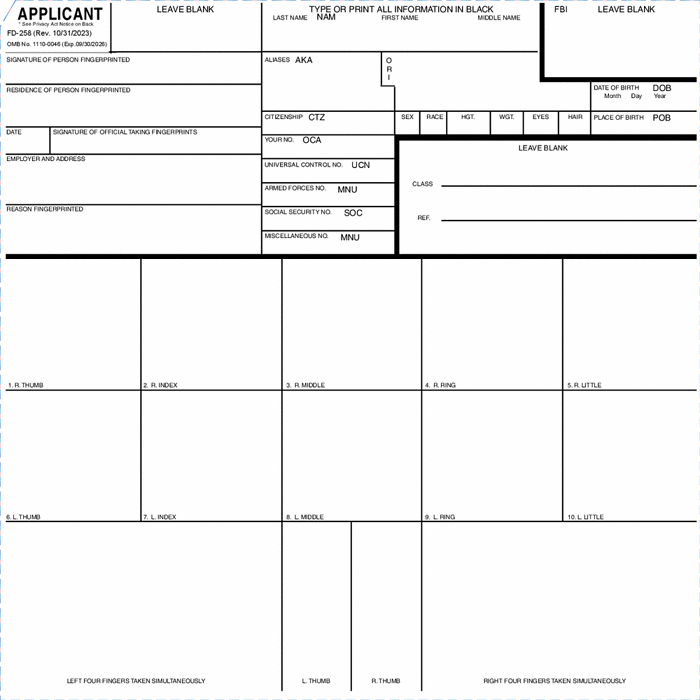 Information that you will not need for the forms:
ORI #
This is the Originating Agency Identification Number, which is provided by the FBI to certain agencies that normally request such checks. JET does not provide an ORI as you are officially submitting the BG check as an individual for the intention of working abroad.
I ran into trouble with my local police office not wanting to do my LiveScan without this information and gave up on them quickly. However, this seems to be rare case and more so due to the mood that the clerk was in at the time of my visit. Other JET applicants haven't seemed to run into this issue from what I have seen.
Employer address*
Officially, you don't need anything here, as JET is not your employer and you do not have you Contracting Organisation's information yet. I put my current employer's information there just as a precaution, but it is not relevant to the reasoning for your prints, so you will be fine without it. I know others had also put the address of their local consulate/embassy as well.
---
FBI Method
Cost: $18 + Fingerprinting (+ any shipping fees for ink prints)
If you are going through the FBI directly, the quickest way to get your BG check is to submit the online request form rather than physical one. The FBI is considered to be the slowest of your options, due to the high demand of requests they normally receive. If you are going direct, please make sure you submit your request with enough time for them to process your results and receive the physical copy. Their timeline is 4-6 weeks officially. It only took 1.5-2 weeks for mine to arrive, but I submitted my request/prints in early February right after the shutdown was lifted.
When you are submitting your application, you will specify that the reason for applying is for "living/working overseas". Please make sure you properly fill this out. Any mistakes could delay your results.
---
Make sure you check off that you need a hardcopy!!
The FBI does not charge extra for the hardcopy, but you must check off that you need one, otherwise they will only email your results and you will have to place another order and repeat the entire process. If you are paranoid want to have more than one hardcopy, you will have to pay for additional requests.
---
After submitting your application, you will go in to get your fingerprints done —either via LiveScan or ink. You can find a list of places that will do this for you via a quick google search. If you're a student, check with your Campus Police if they can do it for a discounted rate or free. I used them when I needed my security clearances in the past and it was always quick and free. Save some money if you can, you'll need it for Japan! 🙂
Be advised that if you are doing ink, you will need to send in a copy of your confirmation email of your application along with your prints. Also, LiveScan usually costs a lot more than ink printing.
It is recommended by the FBI to send in two different copies of ink prints, just in case one of them is not able to be correctly processed. If you send in more than one copy at once, it saves you time and money from resending them again should there be any issues. I blanked on this when I was doing mine and only got one set of prints done and luckily, they were OK the first time.
If you did the online form, you should receive your emailed results back within only a couple of business days and then they will ship out your hardcopy to the address you specified at the time of application.
Other places that offer prints are police/sheriff stations and shipping centres, such as UPS and the Post Office. Please call ahead and make sure the services are offered as they vary by location. I ended up going through UPS this time around as they were cheap for ink and shipping.
---
For me, my costs were $18 (FBI) + $15 (ink prints via UPS) + $13 (registered 2-day shipping) = $46
LiveScan prints run around $45-75, plus the FBI fees. This price varies by location, but for me it was cheaper to just do ink and send it in.
I got my emailed results within 2 business days after my prints were delivered and got my physical copy a week after that.
---
If you do not ship it directly to the consulate, do not open your results. You must present the original, sealed copy to JET. If you accidentally open it, it will be considered void and you will have to redo everything.
---
Channeler Method
The overall method is the same, in that you need to submit an online application and then go in to get your prints done. Specifics will vary depending on the channeler you choose.
When choosing a channeler, keep in mind two main points: 1. Hardcopies and 2. Speed.
Make. Sure. You. Get. A. Hardcopy.
I will keep repeating this as many times as needed because it seems that every year—hell, every consulate group—has that one person that messes up and gets results without a hardcopy option.
I have seen countless posts in the JET reddit and Facebook groups already panicking that they did not get a hardcopy and must redo everything and can't get a refund. It is up to you to verify all this is correct before placing your orders. Not all channelers on the recommended list provide hardcopies. Please contact every channeler you are considering verifying, in writing, that you will be able to get the physical copy. If you get it in writing and then they end up screwing you over by not providing one (if you filled out your application correctly), you should be able to either get the physical sent to you in the end or at the least get a refund.
Follow whatever instructions your channeler provides you and you should be good as they act as your middleman with the FBI.
---
Overall, the process is relatively simple once you get the paperwork in and just involves a lot of waiting. Make sure you give yourself plenty of time to get your results and fix any possible issues that arise.
Triple check that you are getting that hardcopy because you do not want to be that guy that screws up.
Triple check that you are getting that hardcopy because you do not want to be that guy that screws up.
Don't open your hardcopy and send it in ASAP to your consulate/embassy.
Check off one more box from your required documents.
Congrats, you are one step closer to Japan!